A screen adds privacy and security to your Sunshine Coast home or business
At TJM security we only supply the best brands of screens on the market.  A screen, especially for security, has to keep intruders out and your pets in so if it does not work then it is a real problem.  We use quality fly screen, diamond mesh, ALU-Guard and INVISI-GARD products as we know they work and you will be 100% happy with the end result.  We will come to your home or business, measure up for screens, email a great price to you and have it installed in no time.  Our products are custom made for you so they fit perfectly and look amazing.  You only pay a deposit with your order and the balance is not due until after installation.  That is how confident we are that you will love your new screens from TJM Security.
Screen Products – the best in the business
Fly Screen
If you are tired of flies, insects and wildlife entering your home or business our quality insect screens will solve the problem.  We can replace your existing screen material or measure up your windows and manufacture new screens and frames. You and your family will be safe from pests and your house will be looking its best.
Diamond Mesh
As a tried and tested low cost security product diamond mesh is hard to beat.  We can supply and fit diamond mesh to any window or door in a range of colours too.  Intruders will give your place a miss as they know how hard the material is, so avoids even a break in attempt.  Low cost, durable, colour choices and allows light or cool breezes to pass right through.
ALU-GARD
An aluminium perforated security mesh, ALU-GARD is retained in an extruded aluminium frame for strength and long life.  The material is light but super strong, specially formulated for security use.  The design has a PVC retention system that locks the mesh into the frame to keep you and your family safe.
INVISI-GARD Stainless Steel Security (15 year warranty)
Stainless Steel Security Design. Combining the strength of Marine Grade 316 Stainless Steel with the beauty, strength and flexibility of aluminium, INVISI-GARD Security Screens offer unparalleled clarity of vision with enhanced security.
Stainless Steel Mesh – The Facts
When buying a stainless mesh product, ensure that you are purchasing only the highest quality. INVISI-GARD screens offer you that quality with a woven wire product that is manufactured using a marine grade 316 High Tensile (900MPa) Stainless Steel Wire. This is then pre-treated and powder coated, with the highest quality powder coating available.
INVISI-GARD uses only the highest quality of mesh available to the market and supports this with a 15 year warranty allowing you peace of mind for many years to come.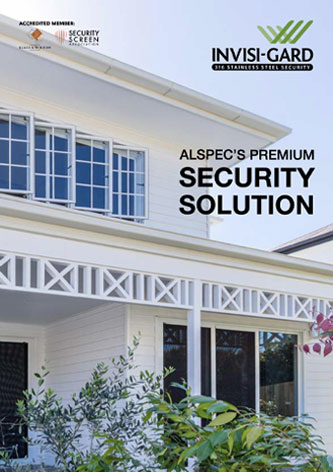 Not sure what you need?
Check our gallery pictures and if you are not sure what you need or which product is best for you, just call us for a chat.  With 30 years of experience from measure up to installation we can help you work out what you need and at a great price too.
For the best products, custom made just for you, see TJM Security, right here on the Sunshine Coast.
Call now on 0400 999 136